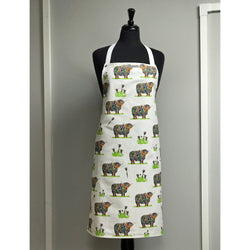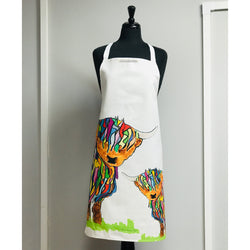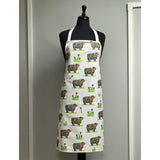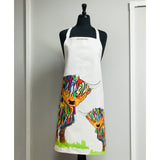 Chloe Gardner
Bright Highland Cow Design on White by Chloe Gardner
A selection of homewares in Chloe's Bright Highland Cow design on a White background.
Apron:  Measures 86cm by 62cm. 100% cotton. Machine or handwash.
Chopping Board:  Measures 29.2 x 25.4cm.  Made out of eucalyptus and melamine.  Do not soak or put in dishwasher.
Coaster: High quality melamine front and cork back.  10cm x 10cm.
Espresso Mug:   Mini Espresso sized mug. 8.5cm x 6.5cm x 6.3cm
Latte Mug:  Very light fine bone china.  Height 152mm.  Diameter 90mm.  Dishwasher safe.
Oven Gloves:  British made oven gloves with the design on both sides. 88cm x 19cm.
Standard Mug:  Fine Bone China.  Height 94mm.  Diam 83mm.  Dishwasher safe.
Table Mat:  Melamine front and cork back.   29 cm x 21.5 cm 
Tea Towel:  100% cotton.  70cm x 50cm.  Machine washable. 
Card: 7x5cm blank inside 
Shopper: H40cmxW37cm. 100% cotton.