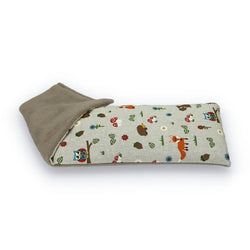 The Wheat Bag Company
Woodland Wheat Hottie
​These microwavable wheat bags are perfect for when you're feeling cold, stressed or have any aches & pains. Each wheat bag is filled with cleaned English wheat and come either unscented or with English lavender buds.
Size: 46cm x 14cm approx.
Materials:  100% comforting cotton with a soft fleece backing
Handmade in Wiltshire, England
Suitable for all ages over 36 months, they comply with British Safety Standards.
Usage Instructions:
Hot - Simply place in a clean microwave with a rotary table for 1-2 minutes maximum on a medium setting.
Cold - For use as a cool pack, place in the freezer for up to 1 hour to relieve pain.