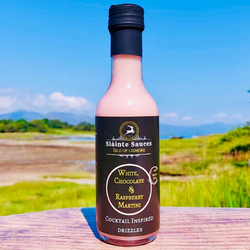 Oystercroft
White Chocolate and Raspberry Martini Drizzle by Slainte Sauces
Slàinte: 'slan-cha' a Scottish cheers.
A sweet light sauce, perfect to pour like syrup over ice cream and make cocktails by mixing with Prosecco.
Each 185ml bottle contains 25% WHITE RUM, for ADULTS only.
Shake well before use as separation will occur, store in a cold dry place.  Once opened refrigerate and consume within 4 weeks, resting at room temperature before use can help with pouring. 
Ingredients: White Rum 25%, white chocolate syrup, olive oil, raspberry syrup, water, raspberries, guar gum
servings - 12 x 15g portions 
Vegan friendly.
Contains Alcohol not suitable for children.