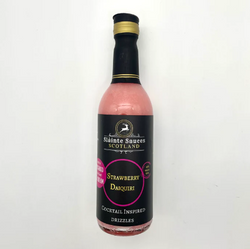 Oystercroft
Strawberry Daiquiri Cocktail Drizzle by Slainte Sauces
Slàinte: 'slan-cha' a Scottish cheers.
A delicious and sweet sauce made with 25% white rum and real strawberries with a hint of lime.  Perfect to drizzle over ice cream, meringues, fruit and add to Prosecco.
Each 185ml bottle contains nearly 2 measures of RUM, ADULTS only treat.      
Allergy advice - made in commercial premises containing all allergens.
Shake well before use as separation will occur, store in a cool dry place.  Once opened refrigerate and consume within 4 weeks.
Ingredients: White Rum 25%, water, strawberry syrup, olive oil, lime, syrup, strawberries 5%, guar gum.
servings - 12 x 15g portions 
Contains Alcohol not suitable for children.