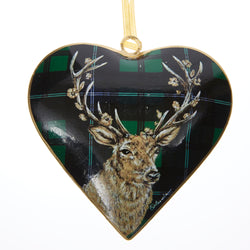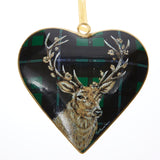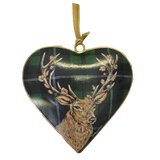 Tinker Tailor Limited
Stag On Green Metal Heart Decoration by Tinker Tailor
Tinker Tailor are a London-based, woman-led, small business creating handmade collectible souvenirs and Christmas decorations. 
Their client base includes luxury department stores, National Museums, Art Galleries, Independent Garden Centres, Stately Homes, Royal palace gift shops and independent gems. They source exciting new fabrics and use superior quality beads and crystals which are each sewn on by expert hands.  Their expert team is tried and tested and they design every piece from scratch using traditional skills.
A pretty metal heart decoration featuring a Scottish stag with his antlers adorned with wildflowers. 
A charming Christmas decoration or hanging decoration for your home through all the seasons!