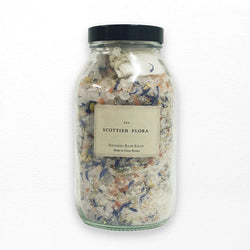 Sting in the Tail
Scottish Flora Bath Salts
Bath salts naturally rich in minerals, flowers and herbs, fragranced with essential oils, complete with re-usable muslin bag. 

Scottish Flora Bath Salts -Skin Health, Relaxing, Soothing. 
To use place approximately four table spoons of salt in the bag. Hang the bag under the running hot tap, then place in the water. Sufficient for around 6 baths. 
Ingredients will vary depending on variety chosen.
 Jar dimensions: Height 15cm x base diameter 7.5cm