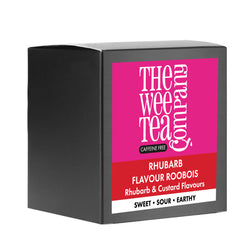 Wee Tea Company Ltd
Rhubarb Rooibos Tea
One of the unique features of The Wee Tea Company is their use of premium, hand-selected tea leaves. These leaves are sourced from some of the finest tea estates around the world, ensuring that the tea they produce is of the highest quality. They take pride in using traditional methods to blend their teas, ensuring that each cup is full of flavour and character. 
WINNER OF "BEST TEA" AT THE SCOTTISH RETAIL FOOD & DRINKS AWARDS 2021
Rhubarb Rooibos tea brews a sublime light pink colour, and tastes so delicious.  Its gorgeous sweet and smooth flavours pop around the mouth releasing a tiny hint of sour.  This tea has a stunning combination of flavours & is expertly balanced, it may even remind you of rhubarb & custard sweets!  
Ingredients: Rooibos, Apple Pieces, Apple Cubes, Hibiscus Pieces, Elderberries, Flavouring, Rosehip Peel, Freeze dried Rhubarb Pieces, Pink Cornflower Blossom
Caffeine Free
Tea Type: Rooibos infusion, Fruit & Herbal infusion
Brewing Time - 3-5 minutes
Tea Origin - Multi Origin
Hand Blended in Scotland
Box contains 15 luxury teabags; 35g net weight