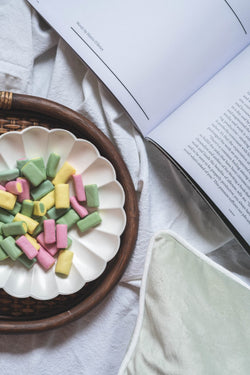 The Sweetie Jar
Rhubarb & Custards
These little chewy sweets with the distinctive flavour of rhubarb & custard come in pretty pastel shades of pink, yellow & green.  They are the perfect gift for someone with a love of traditional sweeties and are packaged in a 'Pic n Mix Favourites' sweetie pouch adorned with a cute Scottish Highland Cow.

Bag weight - approx. 150g
Ingredients - Sugar; wheat starch; glucose syrup; palm fat; gelatine; dextrose; emulsifier: mono-and diglycerides of fatty acids, citric acid esters of mono-and diglycerides of fatty acids; acid: citric acid; acidity regulator: trisodium citrate; flavourings, fruit and plant concentrates: safflower, lemon, sweet potato, apple, blackcurrant, radish; colour: copper complexes of chlorophyllins; glazing agents: white and yellow beeswax, carnauba wax; invert sugar syrup.
Allergens in bold