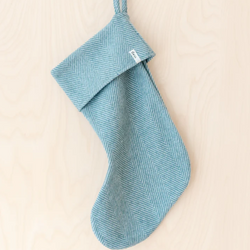 The Tartan Blanket Co.
Recycled Wool Christmas Stocking in Pistachio Herringbone
Woven from 70% Recycled Wool, 30% Mixed Recycled Fibres.
These stockings are made with the offcuts from the recycled wool blankets.
Wool is blended with recycled mixed fibres and respun, new blankets are then woven with the recycled yarn and hand finished. The final product is a soft and durable sustainable blanket.
70% recycled wool, 30% mixed fibres 
23cm x 51cm


Designed in Edinburgh, wool sourced from India
Machine wash on wool cycle. Lay flat to dry.