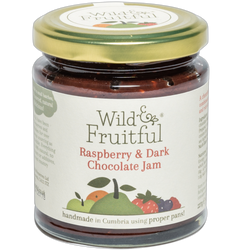 Wild & Fruitful Preserves Ltd.
Raspberry & Dark Chocolate Jam
This jam is a 'chocoholics' dream & is handmade in Cumbria using traditional methods.  Is is a superb mix of sweet raspberries & rich dark chocolate.    It is the perfect filling for any chocolate cake, biscuit or dessert and it's simply scrumptious spread into warm croissants. What's not to love!
Ingredients: Raspberries (56%), Sugar, Dark Chocolate (Cocoa Mass, Sugar, Cocoa Butter, Emulsifier: Soya Lecithin, Natural Vanilla Flavouring) (10%), Gelling Agent: Pectin. Prepared using 56g fruit per 100g. Total sugar content 49g per 100g. 
Allergen info: Contains Soya
Jar Size: 227g