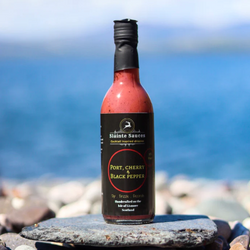 Oystercroft
Port, Cherry and Black Pepper Sauce by Slainte Sauces
Slàinte: 'slan-cha' a Scottish cheers.
Sweet, peppery and with real cherries, perfect with Stilton and also ideal to drizzle over beef, burgers, duck, venison, cheese, fruit and ice cream.

Each 185ml bottle contains 35% Port, for ADULTS only.
Allergy advice - made in commercial premises containing all allergens.
Shake well before use as separation will occur. Store in a cold dry place. Once opened refrigerate and consume within 4 weeks, resting at room temperature before use can help with pouring.
Ingredients: Port 35%, cherry syrup, water, 5% cherries, black pepper, guar gum(stabiliser)
Serving - 12 x 15g portions 
Contains Alcohol not suitable for children.