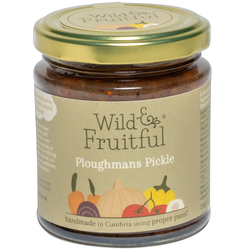 Wild & Fruitful Preserves Ltd.
Ploughman's Pickle
A must have accompaniment for any picnic or al fresco snack.  This sweet pickle is made from crunchy vegetables coated in a flavoursome sauce & is particularly good with hams, savoury pies and pasties.  It can be used in various sandwiches or add a tea spoonful to a shepherds pie for a real kick.
Ingredients: Sugar, Carrots (21%), Apples (21%), Onions (16%), Distilled Malt Vinegar (from Barley), Dried Dates (Dates, Rice Flour), Salt, Black Treacle (Invert Sugar Syrup, Cane Molasses), Lemon Juice, Maize Starch, Mustard Seeds, Dried Red Chilli Peppers, Ground Ginger. 
Allergen Info: Contains Barley, Mustard 
 Jar Size: 210g