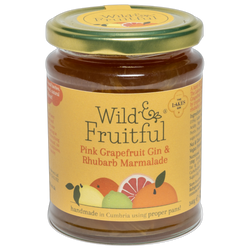 Wild & Fruitful Preserves Ltd.
Pink Grapefruit Gin & Rhubarb Marmalade
This 'moreish' marmalade is handmade in Cumbria using traditional methods.  Pink grapefruit gin is beautifully combined with tropical ruby grapefruit & tangy rhubarb to create this unique spread.  This is a definite must for both marmalade and gin connoisseurs.  This is delicious on freshly baked bread & teacakes but equally lovely added to gin & tonics, cocktails or as a glaze for cakes.
Ingredients: Sugar, Pink Grapefruit (30%), Rhubarb (13%), Lakes Distillery Pink Grapefruit Gin (2%), Gelling Agent: Pectin, Acidity Regulator: Citric Acid. Prepared using 43g fruit per 100g.
Jar Size: 340g