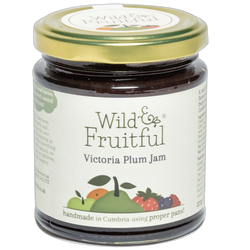 Wild & Fruitful Preserves Ltd.
Perfect Plum Jam
This yummy plum jam is handmade in Cumbria using traditional methods.  This jam has a delightful sharp and sweet flavour with a lovely blend of spices and fruity red wine & is made using locally sourced plums when possible.
This spiced jam is rich in flavour & yet perfectly balanced. It goes well with freshly baked bread or use as filling for cakes and muffins.
Ingredients: Ingredients: Plums (66%), Sugar, Red Wine (Sulphites), Orange Juice, Ground Mixed Spice (Ground Cassia Cinnamon, Coriander, Ginger, Allspice, Nutmeg, Cloves), Gelling Agent: Pectin, Acidity Regulator: Citric Acid. Prepared using 66g fruit per 100g. Total sugar content 66g per 100g. 
Allergen Info:  Contains Sulphites
May contain fruit stones
Jar Size: 227g
(jam name may vary slightly on label)