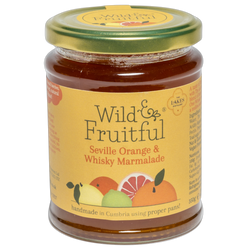 Wild & Fruitful Preserves Ltd.
Orange & Whisky Marmalade
This beautiful whisky marmalade is handmade in Cumbria using traditional methods.  Tangy orange is beautifully blended with whisky to give a mellow warming flavour.  This marmalade can be used to glaze fruit cakes but is equally good on a slice of breakfast toast.
Ingredients: Sugar, Bitter Oranges (31%), Water, Lakes Distillery Whisky (3%), Gelling Agent: Pectin, Acidity Regulator: Citric Acid. Prepared using 31g fruit per 100g. Total sugar content 62g per 100g.
(jar label may vary from image shown)
Jar Size: 340g