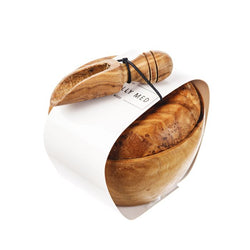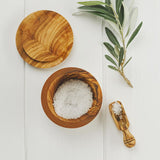 Selbrae House Ltd
Olive Wood Salt Pot and Scoop Set
Carved with care to display the grain of the olive wood, this richly coloured wooden salt pot and scoop set is perfect for keeping to hand on your worktop for seasoning food, cleaning surfaces, or even using as a hand scrub.
Dimensions: 7.5cm (height) x 8cm (diameter)
Material: Olive wood

Product care: For everyday cleaning, simply wipe the surface down with a clean, damp cloth. Dry straight after cleaning. Do not submerse or leave to soak in water. Not Dishwasher Safe. To maintain the appearance of our wood over time olive oil can be re-applied using a dry lint free cloth.
Hand crafted
Food safe
Each piece is unique