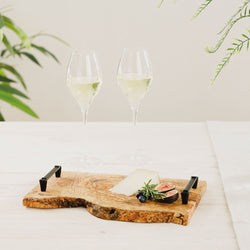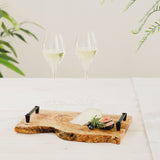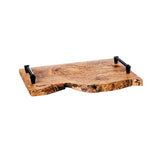 Selbrae House Ltd
Olive Wood Rustic Serving Tray
This fantastic handcrafted olive wood serving tray is great for serving antipasti, bread, mezze or roasted meats when hosting. Beautifully finished with black steel handles.
Handmade in the Mediterranean from sustainably sourced olive wood, which is expertly cut from the trees' branches, so they are never felled. Each platter celebrates the olive tree's distinctive organic grain, which showcases thousands of years' worth of rings and no two will ever be the same.
Dimensions: 34cm x 19cm (all dimensions are approximate due to the natural aspect of the product)

For everyday cleaning, simply wipe the surface down with a clean, damp cloth. Dry straight after cleaning. Do not submerge or leave to soak in water. To maintain the appearance of our wood over time olive oil can be reapplied using a dry lint-free cloth.
Not Dishwasher Safe.
Hand Crafted
Food Safe
(Glasses not included)