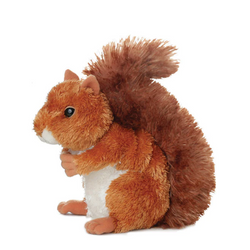 Aurora World Ltd
Mini Flopsie Nutsie Squirrel
Nutsie the squirrel is part of the Mini Flopsie collection. He is made from the finest materials and has beans to keep him in the standing position.
He is soft and cuddly and makes an ideal gift for adults and children of all ages. The beans are double bagged for safety and durability so Nutsie will last for years.
The 8" Mini Flopsie Nutsie is lovingly crafted and meticulously designed to provide its recipient with years of hugs and cuddles.
With a bean filled floppy body, this Mini Flopsie is a great cuddle buddy and an even better friend. Top quality materials are used to ensure durability and softness.