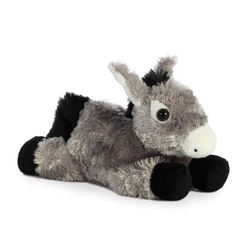 Aurora World Ltd
Mini Flopsie Donkey
This beautifully made Donkey cuddly toy is part of the Mini Flopsies collection. He is in the laying position, though the beans in his body gives him flexibility.
A great gift idea for someone who loves donkeys, the expressive eyes will ensure he is adored by everyone.
The 8" Mini Flopsie Donkey is lovingly crafted and its grey coat is soft and cuddly.
With a bean filled floppy body, this Mini Flopsie is a great cuddle buddy and an even better friend. Top quality materials are used to ensure durability and softness.