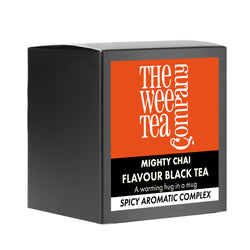 Wee Tea Company Ltd
Mighty Chai Tea
One of the unique features of The Wee Tea Company is their use of premium, hand-selected tea leaves. These leaves are sourced from some of the finest tea estates around the world, ensuring that the tea they produce is of the highest quality. They take pride in using traditional methods to blend their teas, ensuring that each cup is full of flavour and character. 
Mighty Chai: This tea is like a virtual trip to the orient. The smells and scents of the exotic East – Ginger, Cardamom, Cinnamon, Cloves all blended with strong black tea to offer the most satisfying of drinks. This tea is based on a traditional Masala Chai & you can find solace and comfort in this tea.
Ingredients: Black Tea, Cardamom Seeds, Cracked Black Pepper, Ginger pieces, Dried Citrus, Flavouring.
Contains Caffeine
Tea Type: Black Tea
Brewing Time - 3 minutes
Tea Origin - Multi Origin
Hand Blended in Scotland
Box contains 15 luxury teabags; 35g net weight