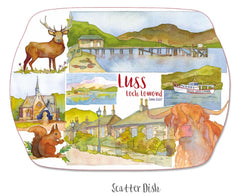 Emma Ball Ltd
Luss Montage Melamine Scatter Dish by Emma Ball
This handy little scatter dish makes the perfect place for your keys and loose change or is just the right size for a cup of tea and a few biscuits! Featuring an exclusive design by the artist Emma Ball for Luss General Store with scenes in and around the picturesque village of Luss in the Scottish Highlands.  
It withstands temperatures up to 95C and is finished with a melamine resin on the surface. 
Stain resistant and dishwasher safe it will retain the bright colour palette. 
Produced in the United Kingdom.
Dimensions: 15cm x 20cm x 2cm