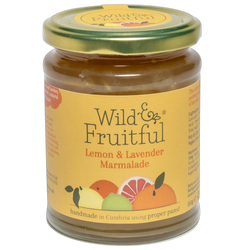 Wild & Fruitful Preserves Ltd.
Lemon & Lavender Marmalade
This marmalade is superbly 'citrusy' & is handmade in Cumbria using traditional methods.  The lovely sharpness of lemon is perfectly complemented by the mildly floral notes of lavender.   This is a perfect accompaniment to more than breakfast; it can be added to your home baking or put through natural yoghurt for a scrumptious dessert.
Ingredients: Sugar, Lemons (32%), Dried Lavender Flowers (1%), Gelling Agent: Pectin, Acidity Regulator: Citric Acid. Prepared using 32g fruit per 100g. Total sugar content 51g per 100g.
Jar Size: 340g