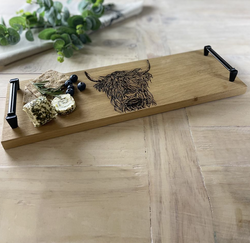 Selbrae House Ltd
Etched Highland Cow Oak Tray with Black Steel Handles
Add some country charm to your home with the highland cow engraved serving tray with black steel handles. A super versatile piece that will look great on display and when using to serve drinks or cheese and antipasti.
Each serving tray has a Scottish Made belly band, making this a lovely gift for any occasion.
 Material: Oak
Dimensions: 45cm(L) x 15cm(W) x 2cm(H)
Product care: Simply wipe down with a clean, damp cloth. Dry straight after cleaning. Do not submerse or leave to soak in water. To maintain appearance of wood over time a food safe oil wax can be re-applied using a dry cloth.
Belly Band Packaging
Grown in Scotland, Made in Scotland
All Selbrae House wood comes from environmentally sustainable sources in Scotland, ensuring the future of this beautiful resource for many more generations.