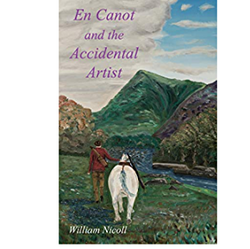 William Nicoll
En Canot and the Accidental Artist By William Nicoll
En Canot - an exquisite cubist painting looted by the Nazis, last seen at Hitler's Degenerate Art Exhibition in 1937 and missing ever since, until it surfaces in Russia where a plan is hatched to smuggle the picture elsewhere.
With a smattering of eccentric aristocrats, an overweight Chinese oligarch and scheming Russian with a devious mind - what could possibly go wrong? Nothing, until Ranald Milngavie, a hapless Glaswegian artist stumbles into the scam and suddenly the best laid plans of mice and men...
A cracking Scottish adventure, a rollicking good yarn!
By Author William Nicoll