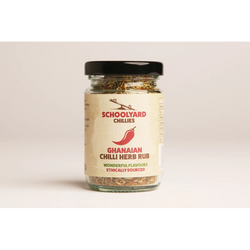 Schoolyard Chillies
Chilli Herb Rub
Schoolyard Chillies work with small, independent farmers in Ghana to keep children in school.  A mix of herbs and spices including Ghanaian Chilli to add a bit of spice & interest to Halloumi, roast Mediterranean vegetables & your favourite meats.

INGREDIENTS:  Garlic Powder, Rosemary, Basil, Ghanaian Cayenne Chilli (20%).
Suitable for vegetarians and vegans.
Jar Size: 30g