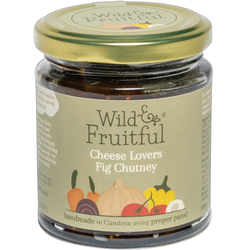 Wild & Fruitful Preserves Ltd.
Cheese Lovers Fig Chutney
A chutney made exclusively for cheese! Juicy figs, caramelised red onions, zesty orange and warming cinnamon are all wonderfully captured in this jar.  This is perfect to serve with any cheese board and perfect with a large variety of cheeses including cheddars, soft cheeses, blue cheeses and goats cheese. it is also delicious with deli items such as cold meats & pies and as a filling in sandwiches.
Ingredients: Red Onions (27%), Apples (22%), Dried Figs (Dried Figs, Rice Flour) (12%), Distilled Malt Vinegar (from Barley), Brown Sugar, Raisins (Raisins, Sunflower Oil), Ginger Crush (Stem Ginger 45%, Sugar, Water), Refined Olive Pomace Oil (Refined Olive Pomace Oil, Extra Virgin Olive Oil), Orange Juice, Salt, Garlic, Ground Black Pepper, Cinnamon. 
Allergen Info: Contains Barley
Jar Size: 210g