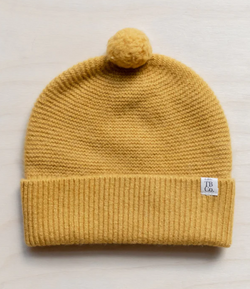 The Tartan Blanket Co.
Cashmere & Merino Baby Beanie in Mustard
This baby beanie by The Tartan Blanket Company is woven from 30% soft cashmere and 70% merino wool.  These merino and cashmere beanies aren't just super soft & cute, they're actually good for your baby.
Until a baby reaches 18 months old, they need a little help regulating their body temperature.  The wool from merino sheep is known to be exceptionally insulating thanks to its fine, curly strands & when it is mixed with the downy coat of the cashmere goat it adds a silky softness that is gentle on sensitive skin.
Do it nature's way and keep a little one cosy, happy and healthy with wool.
Sizes:  0-6 Months (L: 14cm W: 15cm)
           6-12 Months (L:16cm W:18cm)
Care Instructions: Hand Wash Only
Materials: 67% Merino Wool; 30% Cashmere; 3% Lycra
Please note that we stock matching bootees for this product!