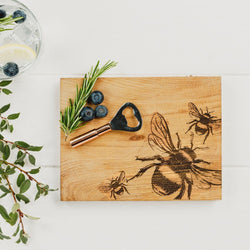 Selbrae House Ltd
Etched Bee Oak Cutting Board & Bottle Opener Set
A great gift set for the home bar - a Scottish oak board for slicing lemons and limes, partnered with a sturdy bottle opener. The board is engraved with the image of honey bees.
Dimensions: Board -Length 20cm x Width 15cm x Depth 2cm
                     Bottle Opener - Length 9cm x Width 4cm
Simply wipe down with a clean, damp cloth. Dry straight after cleaning. Do not submerse or leave to soak in water. To maintain appearance of wood over time a food safe oil wax can be re-applied using a dry cloth.
Grown in Scotland, Made in Scotland
All our wood comes from environmentally sustainable sources in Scotland, ensuring the future of this beautiful resource for many more generations.
(Glass not included)