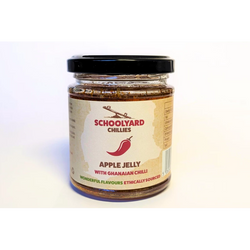 Schoolyard Chillies
Apple Jelly with Ghanaian Chilli
Schoolyard Chillies work with small, independent farmers in Ghana to keep children in school  This jelly is definitely delicious & good for your social conscience too.  This subtle chilli jelly has a perfect infusion of apple making it an amazing accompaniment to cheese or as a glaze for pork.

INGREDIENTS:  Apple Juice from concentrate (54%), Jam Sugar (Sugar, Apple Pectin, Acid: Citric Acid, Glycerol), Ghanaian Cayenne Chilli.
Suitable for vegetarians and vegans.
Jar Size: 190g