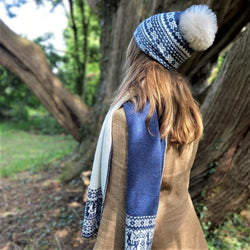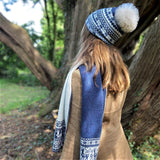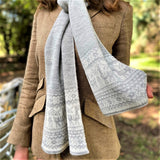 Samantha Holmes
Alpaca Fair Isle Scarf by Samantha Holmes
Turn heads with our cheerful Alpaca Fair Isle scarf. Knitted with an extremely insulating alpaca wool blend, you'll never feel cold, and each scarf is gently felted for a snag-proof finish. All the fibre used by Samantha Holmes is ethically sourced. 
Composition: 6 ply 50% Alpaca, 45% Acrylic, 5% Lambswool
Size - One Size
Care Details - A cool handwash (30º) with a mild detergent such as baby shampoo is recommended.  Wash for no more than 5 minutes.  Rinse in lukewarm water, always pressing, not wringing the fabric.  Wrap the item in a clean dry towel to absorb excess moisture.  Reshape as necessary and lay flat to dry.  Do not hang your wet alpaca garment as it may stretch.