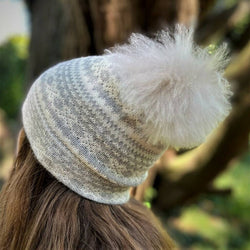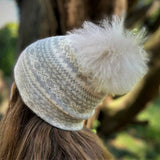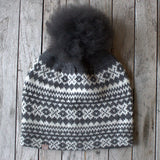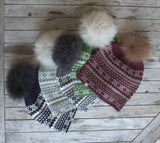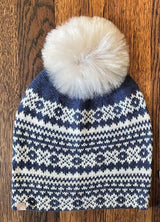 Samantha Holmes
Alpaca Fair Isle Pom Pom Hat by Samantha Holmes
Turn heads with our cheerful Alpaca Fair Isle Beanie hat with detachable alpaca fur pom pom. Perfect for dog walking, alpaca trekking or whatever takes your fancy in the great outdoors. Knitted with an extremely insulating alpaca wool blend, you'll never feel cold, and each hat is gently felted for a snag-proof finish. All the fur used by Samantha Holmes is ethically sourced, including our pom poms.
Composition: 6 ply 50% Alpaca, 45% Acrylic, 5% Lambswool
Size - One Size
Care Details - A cool handwash (30º) with a mild detergent such as baby shampoo is recommended.  Wash for no more than 5 minutes.  Rinse in lukewarm water, always pressing, not wringing the fabric.  Wrap the item in a clean dry towel to absorb excess moisture.  Reshape as necessary and lay flat to dry.  Do not hang your wet alpaca garment as it will stretch.  Use a wire pet brush to restore the fur.  For more serious cleaning cover with talcum powder and gently but deeply rub in. Leave for an hour or two then brush away the excess. This will lift residues and dirt from the hair shaft and restore the fluffiness of the fur.