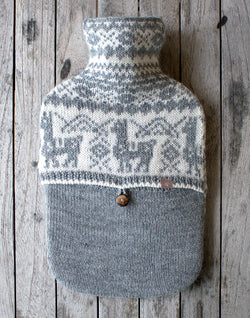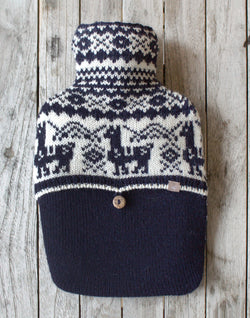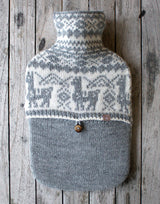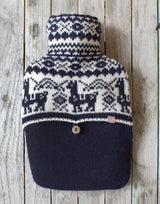 Samantha Holmes
Alpaca Fair Isle Hot Water Bottle by Samantha Holmes
The cutest hot water bottle on the market features a cheerful fair isle pattern with a unique trotting alpaca motif and is hand finished with a little coconut button on the back. It looks too good to hide under the covers. 
Composition: 50% Alpaca, 45% Acrylic, 5% Lambswool
Inner Bottle Included
Size (approx.) - Length 33cm x Width 18cm
Care Details - A cool handwash (30º) with a mild detergent such as baby shampoo is recommended.  Wash for no more than 5 minutes.  Rinse in lukewarm water, always pressing, not wringing the fabric.  Wrap the item in a clean dry towel to absorb excess moisture.  Reshape as necessary and lay flat to dry.  Do not hang your wet alpaca garment as it will stretch.